Introduction
Technifix, a creator designer and builder of theme park attractions asked Eminent Technology to provide enhanced low frequency capability to an immersive attraction they were designing for the Niagara Parks Commission at Niagara Falls in Ontario Canada. The attraction included a nine channel sound system with conventional subwoofers, 360 degree projection screen using HD content, water pool, wind, snow and a moving platform. Niagara's Fury is about the creation of Niagara falls
The construction included an expansion of Table Rock House with the addition of a numerous places to eat, stores, visitors center and the location for the Fury attraction
Table Rock House addition under construction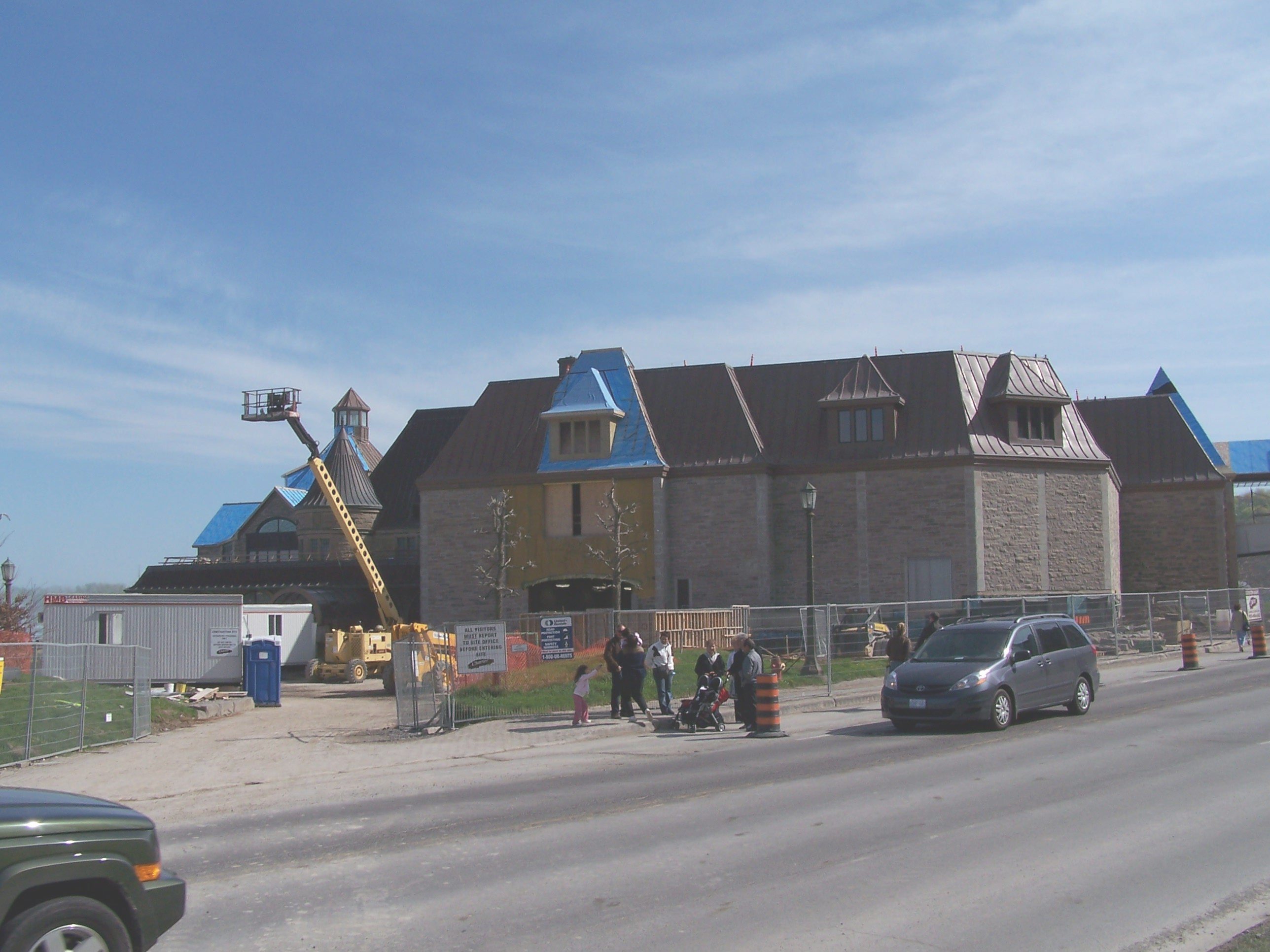 Technifex wanted to recreate the sound and feeling of the falls as a part of the experience. The JBL professional subwoofers used were capable of bass down to 39Hz, Outside of Table rock house the Falls generate sounds to below 1Hz at high sound levels. Eminent Technology's rotary woofer can fill in the gap.
View of Niagara Falls outside Table Rock House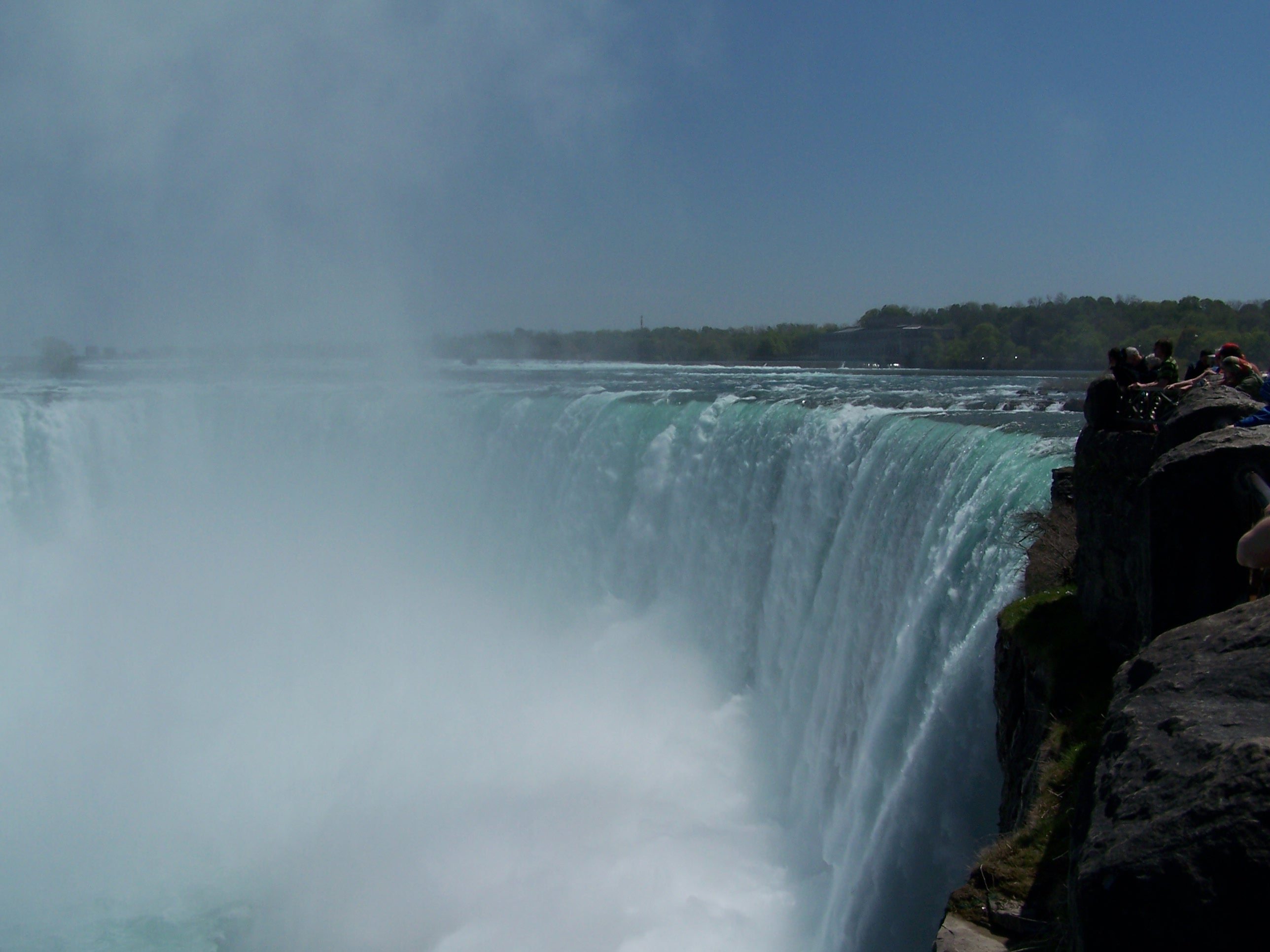 The centerpiece of the second half of Niagara's Fury is a thirty foot diameter 360 degree screen. Viewers stand on a moving platform above a water pool. The show immerses the crowd with video, wind, temperature changes, snow, water spray and sound.
The 360 degree Screen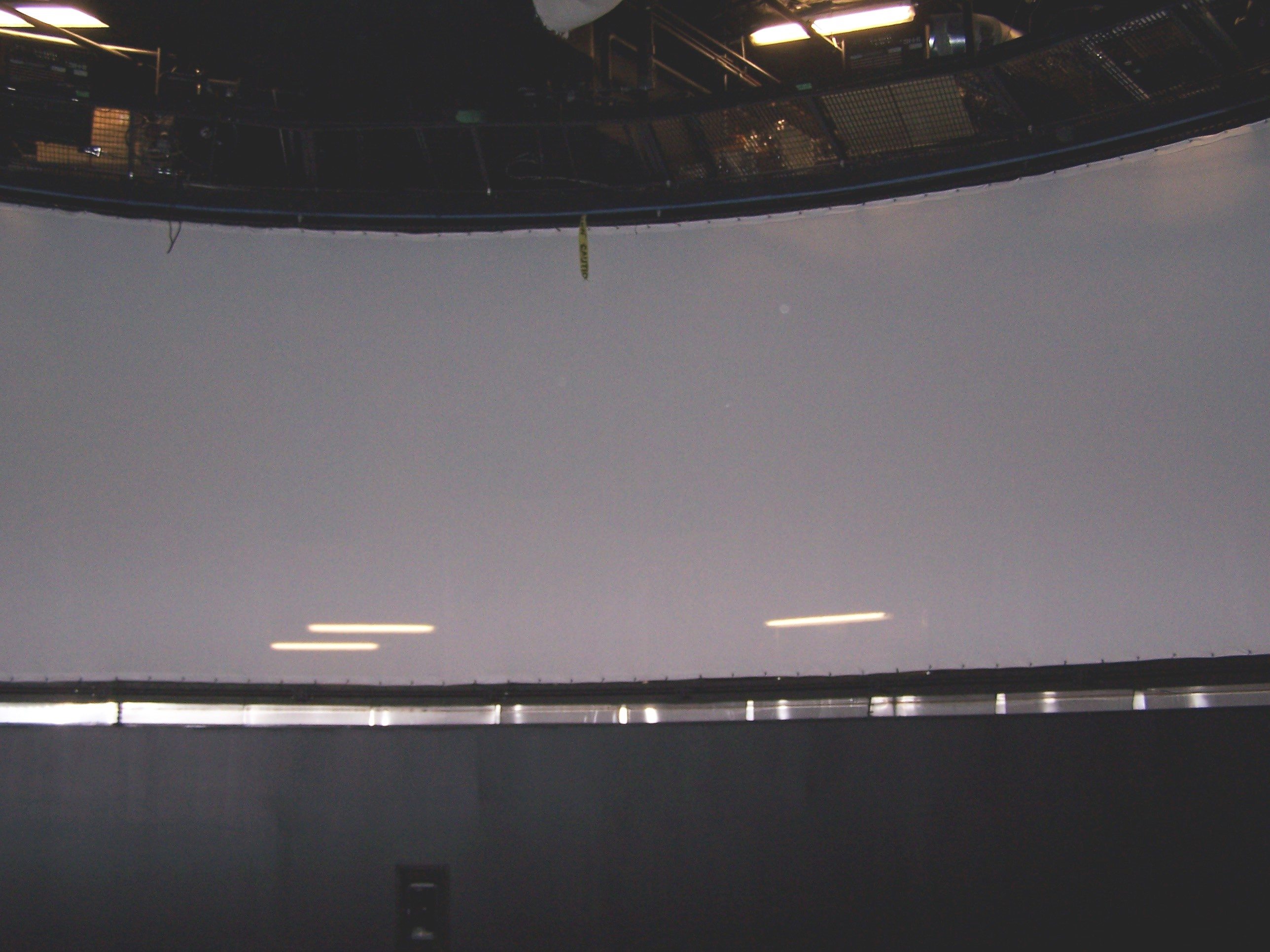 Six rotary woofers were added to the venue. A 5000 cubic foor concrete electrical room below Fury's water pool served as the rotary woofer rear enclosure. Since low frequencies are non directional the rotary woofers were placed in a corner of the screening room. The foundation was poured with six concrete holes which allowed air transfer between the screening room and the electrical room below which became a 5000 cubic foot woofer box

Floor holes for rotary woofer installation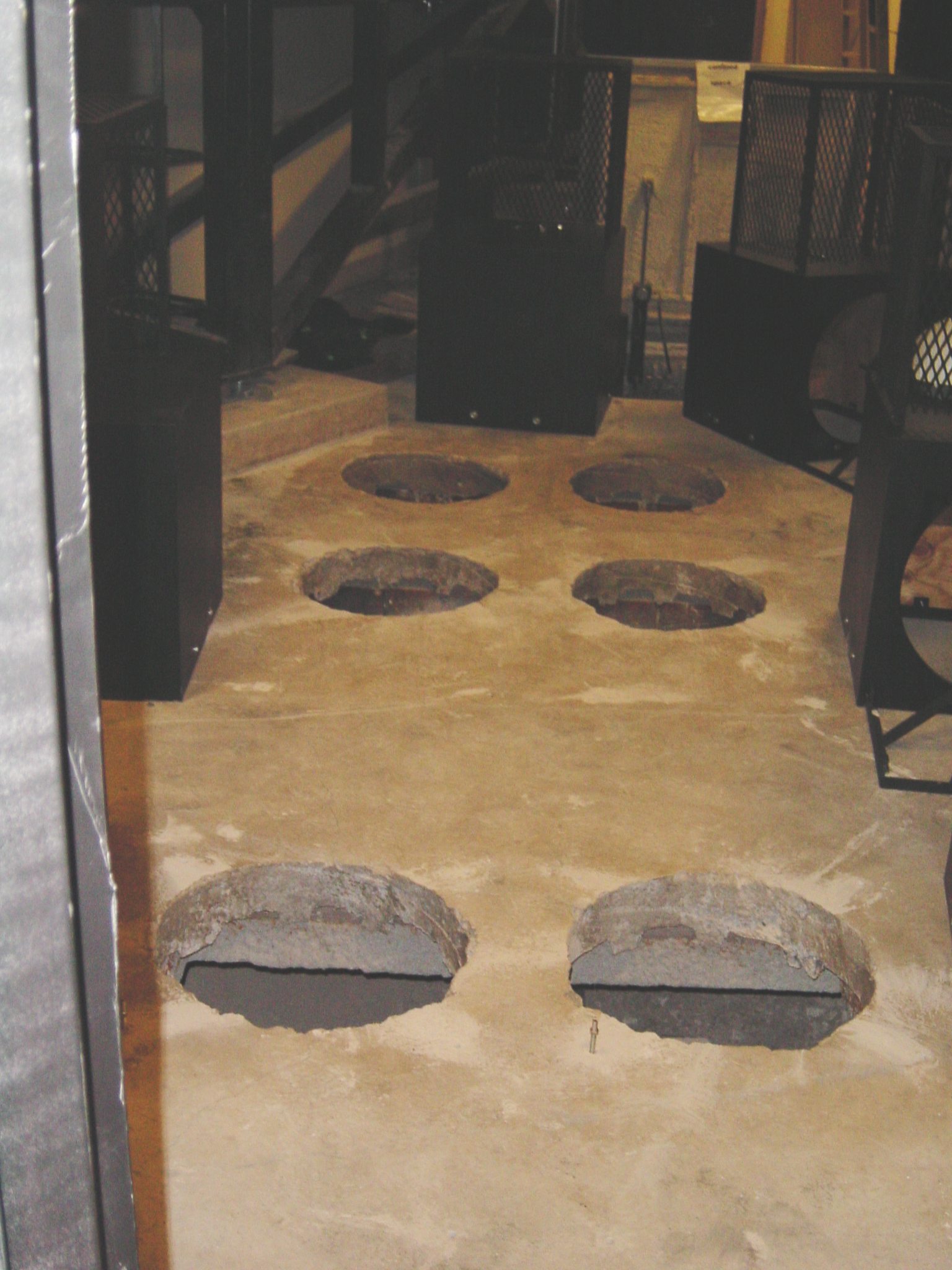 Enclosures were designed to house the rotary woofers and transfer air movement back and forth between the electrical room below and the screening room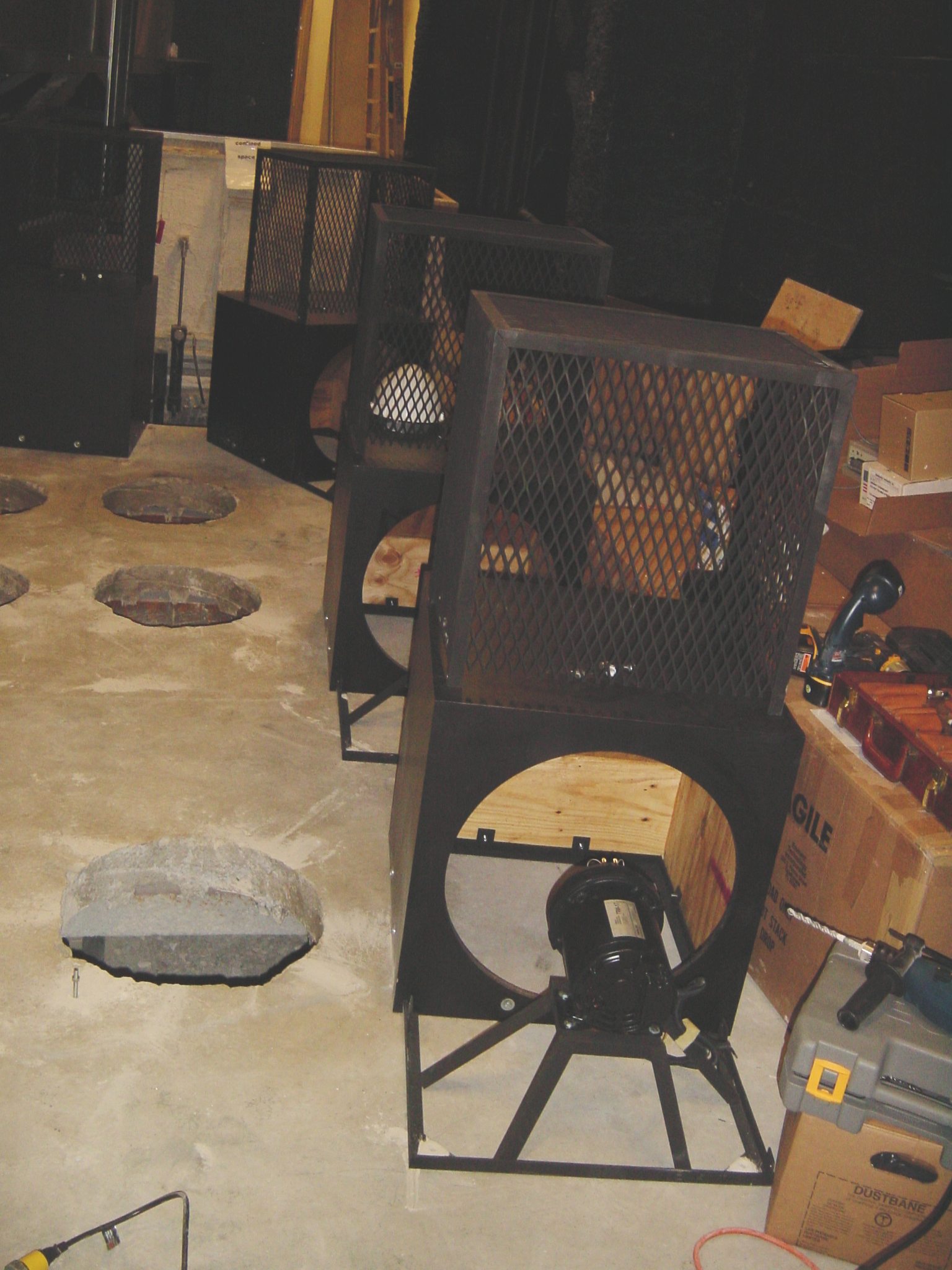 The enclosures used steel frames to support the transducers, these frames were grouted and bolted to the floor. Once enclosures were in place the transducers were mounted, wired and tested.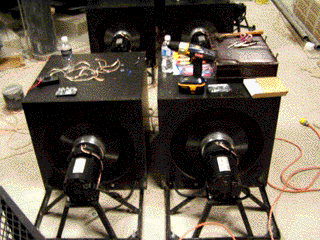 The electronic cabinet below houses two motor controllers, variable speed drives, each motor controller operates three 1/3 horsepower motors. There are also three audio amplifiers, one amplifier for a pair of woofers. The rotary woofer soundtrack came from a seperate digital feed. The Harmen International sound web was not capable of passing below 20Hz content so two seperate channels were created and encoded for the low frequency effects. They were recorded in AC-3 format which can be encoded without any low frequency filtering in a direct coupled mode.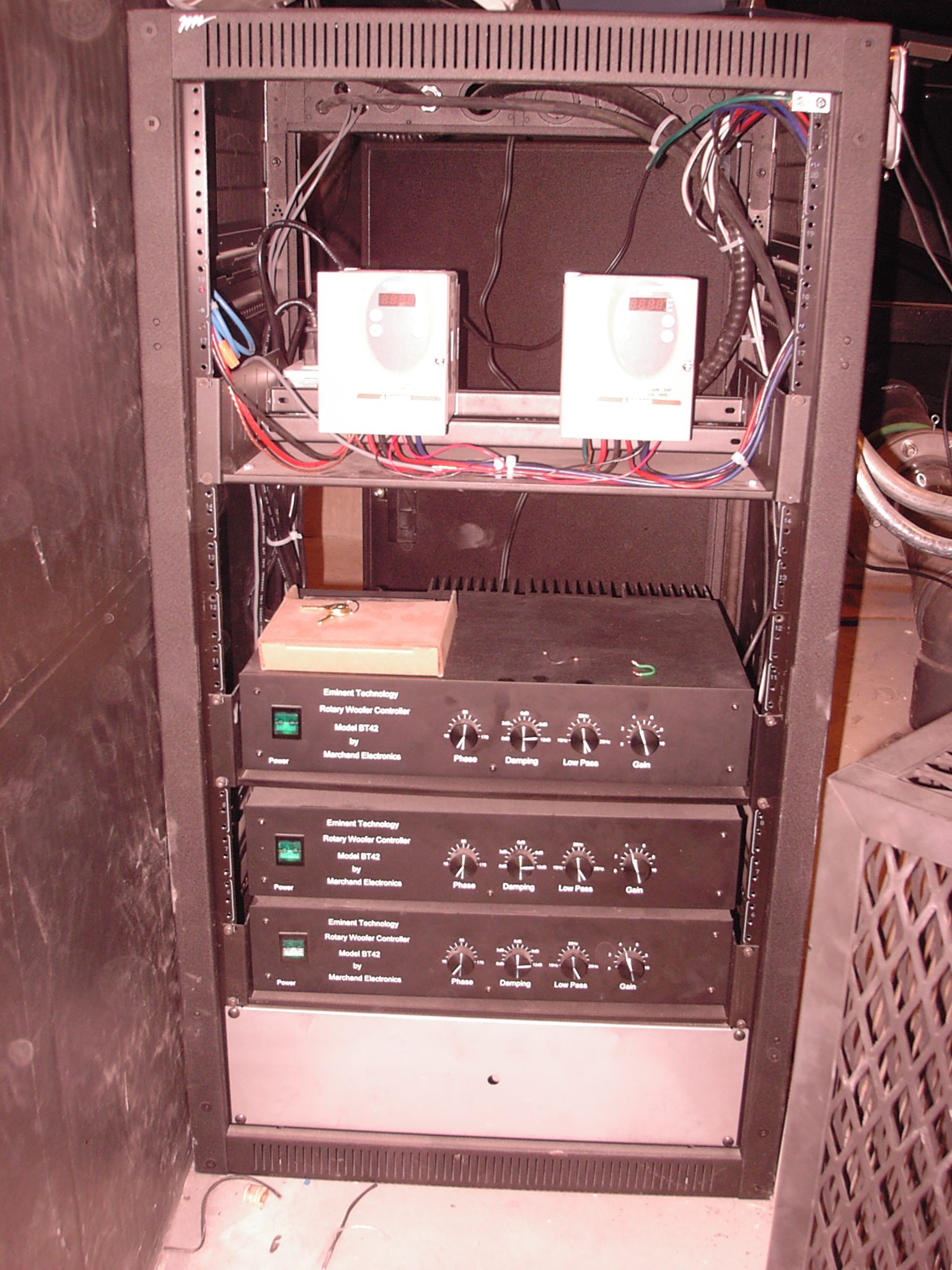 Technifex electronics rack for audio and video signal processing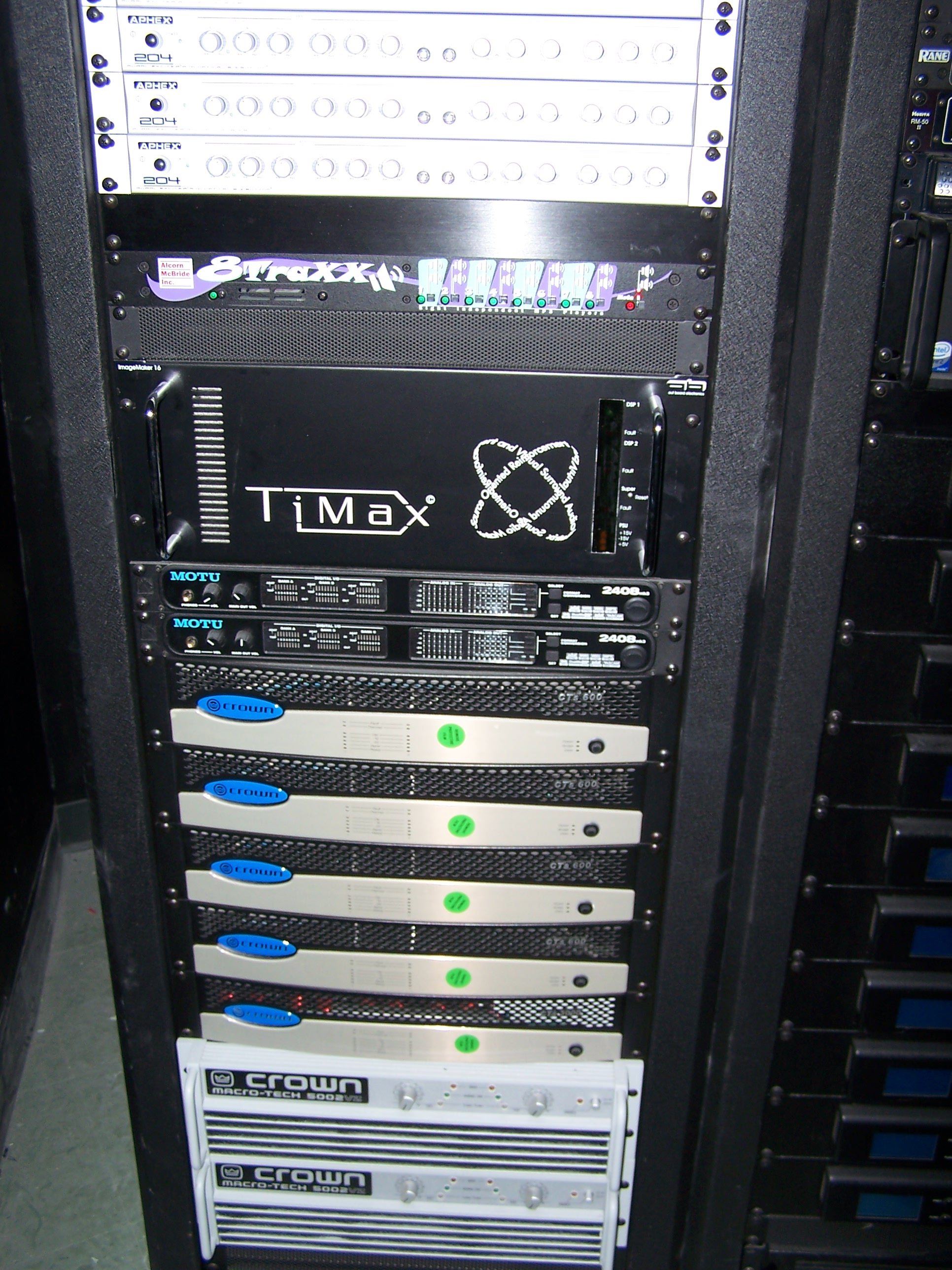 The rotary woofer enclosures were designed with protective cages and are strong enough to be walked on.
The finished installation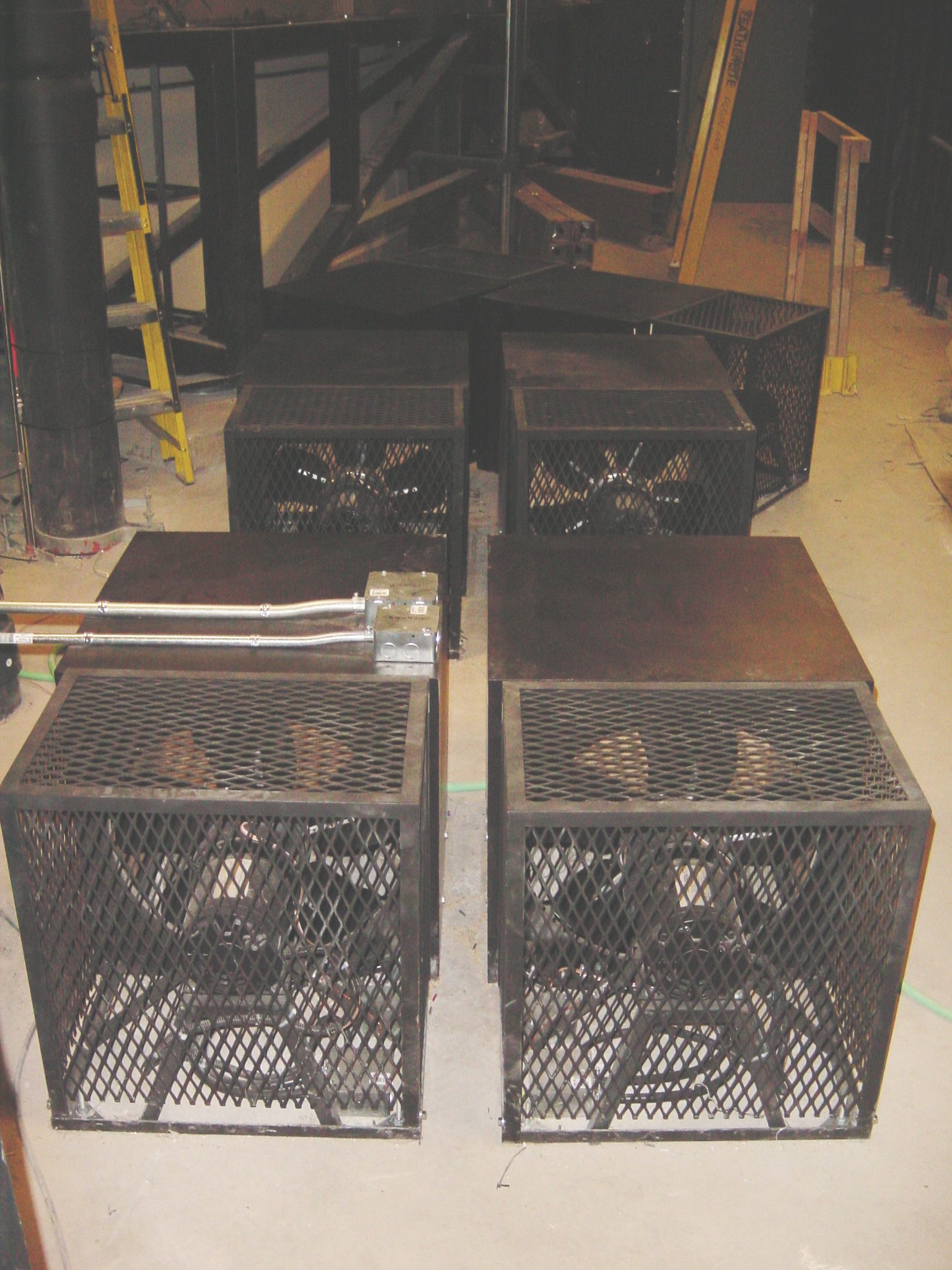 Frequency response and distortion Measurements taken at the center of the screen
5Hz distortion at 125dB sound pressure level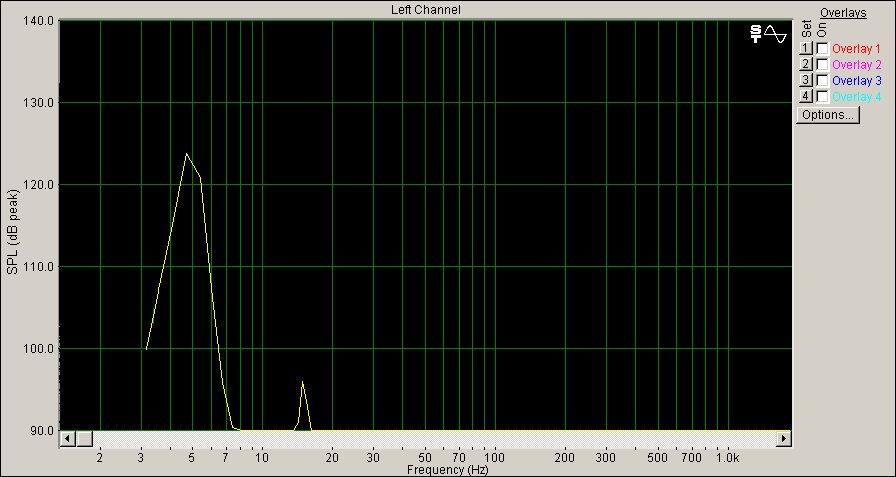 Frequency response measurement of JBL subwoofers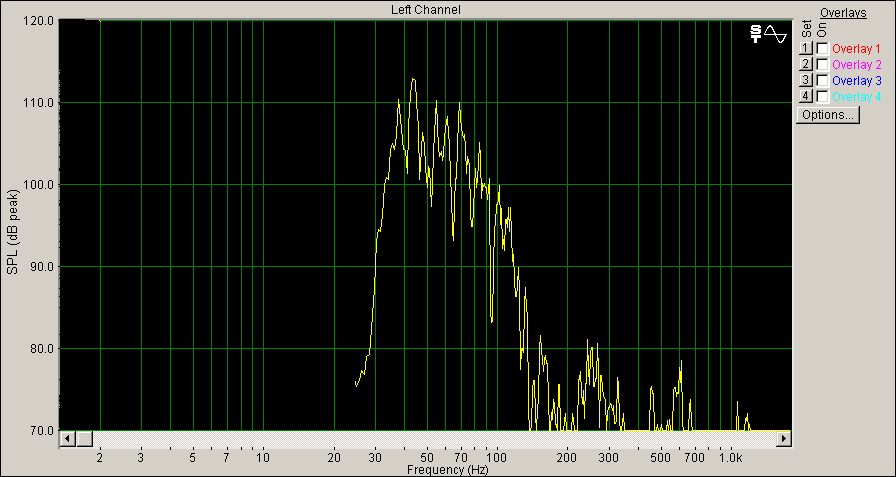 JBL subwoofers and surround speakers behind the screen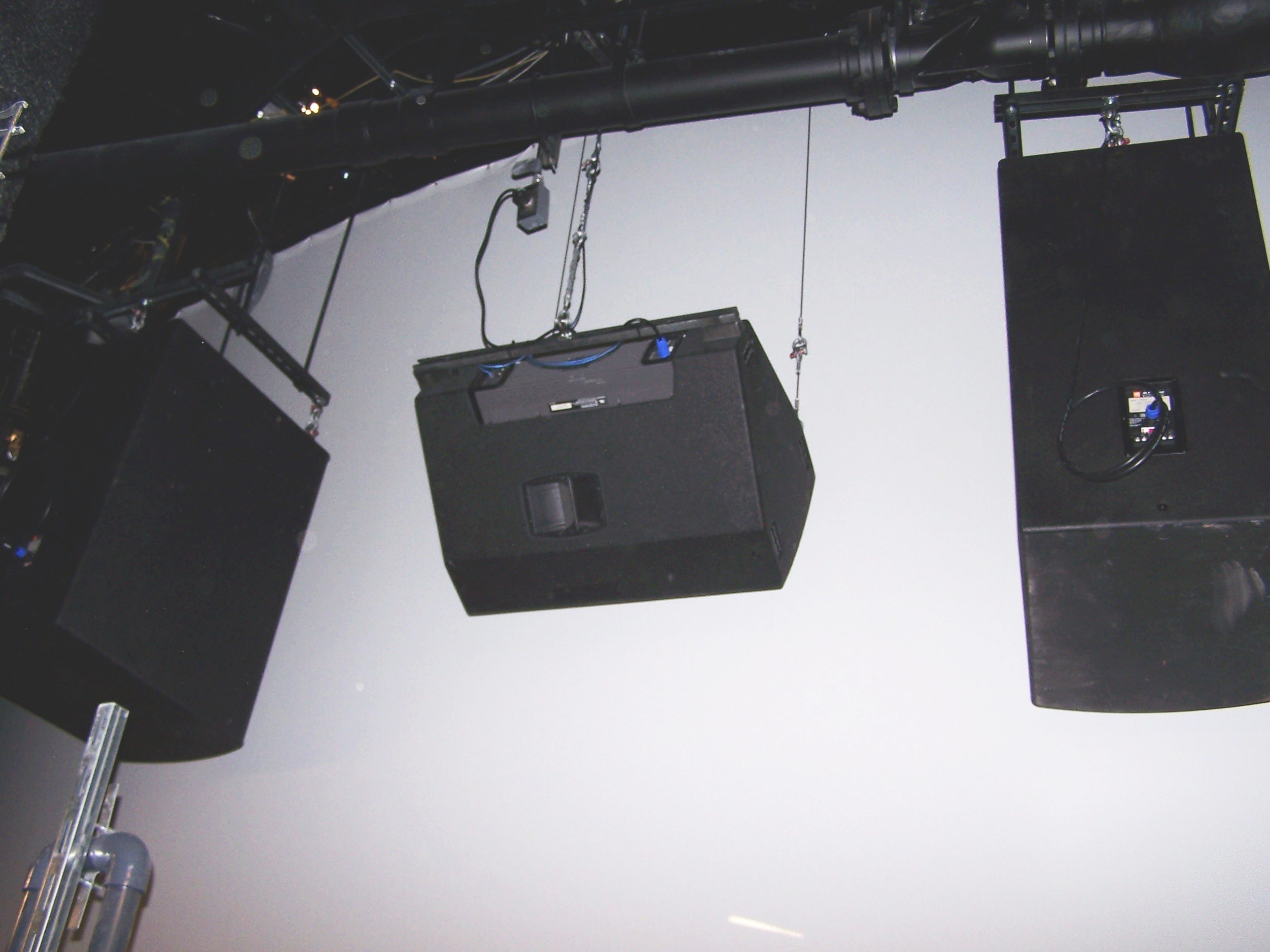 Discovery Channel took video of the final test sessions and interviewed Fury's design team for the Engineering Thrills video series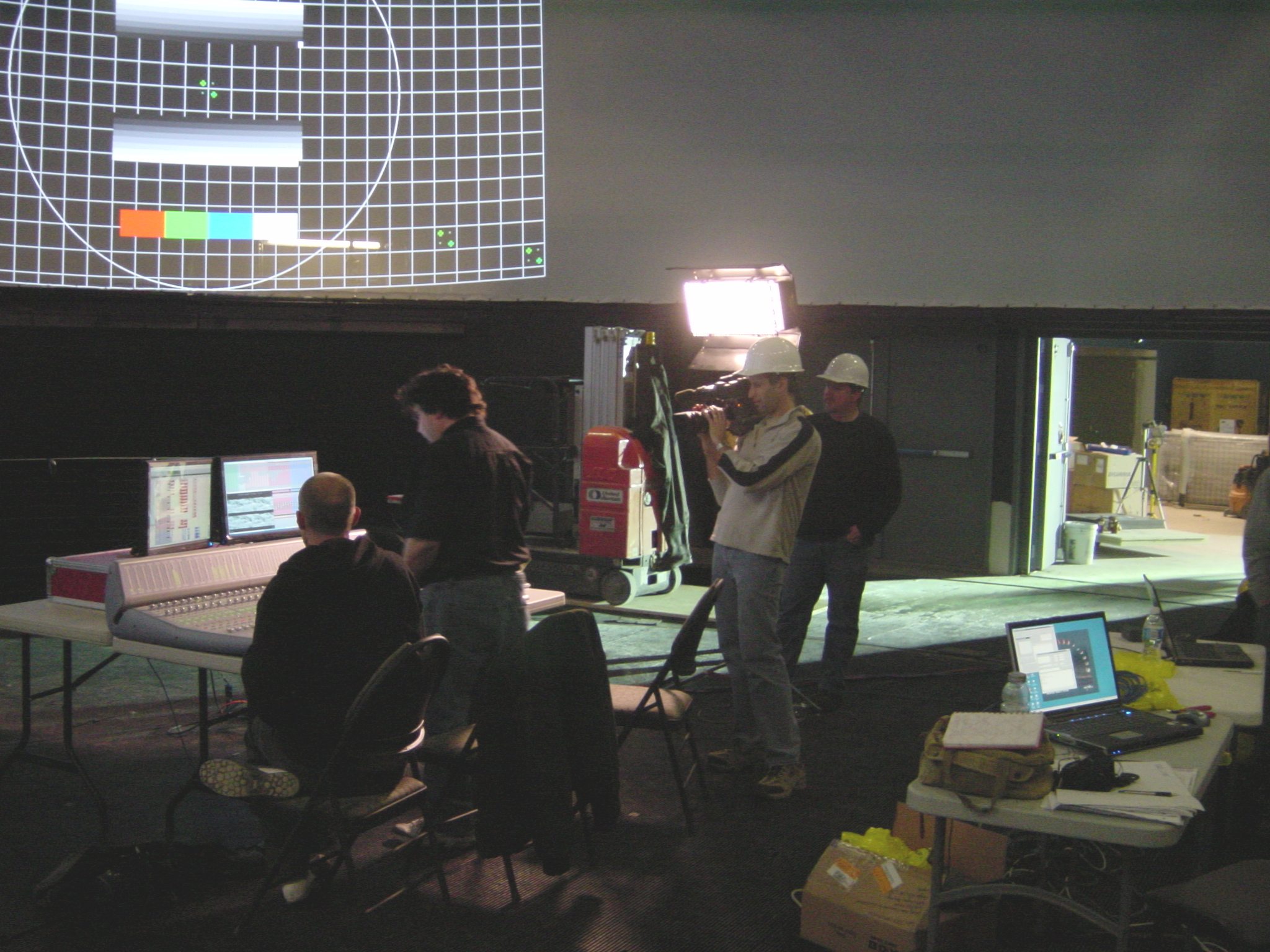 Tattersall sound and Picture from Toronto, Ontario was responsible for creating the soundtracks special effects. Tattersall mixed the final audio soundtrack to the audio and video produced by Blur Studio of Venice, California.
Adding sound effects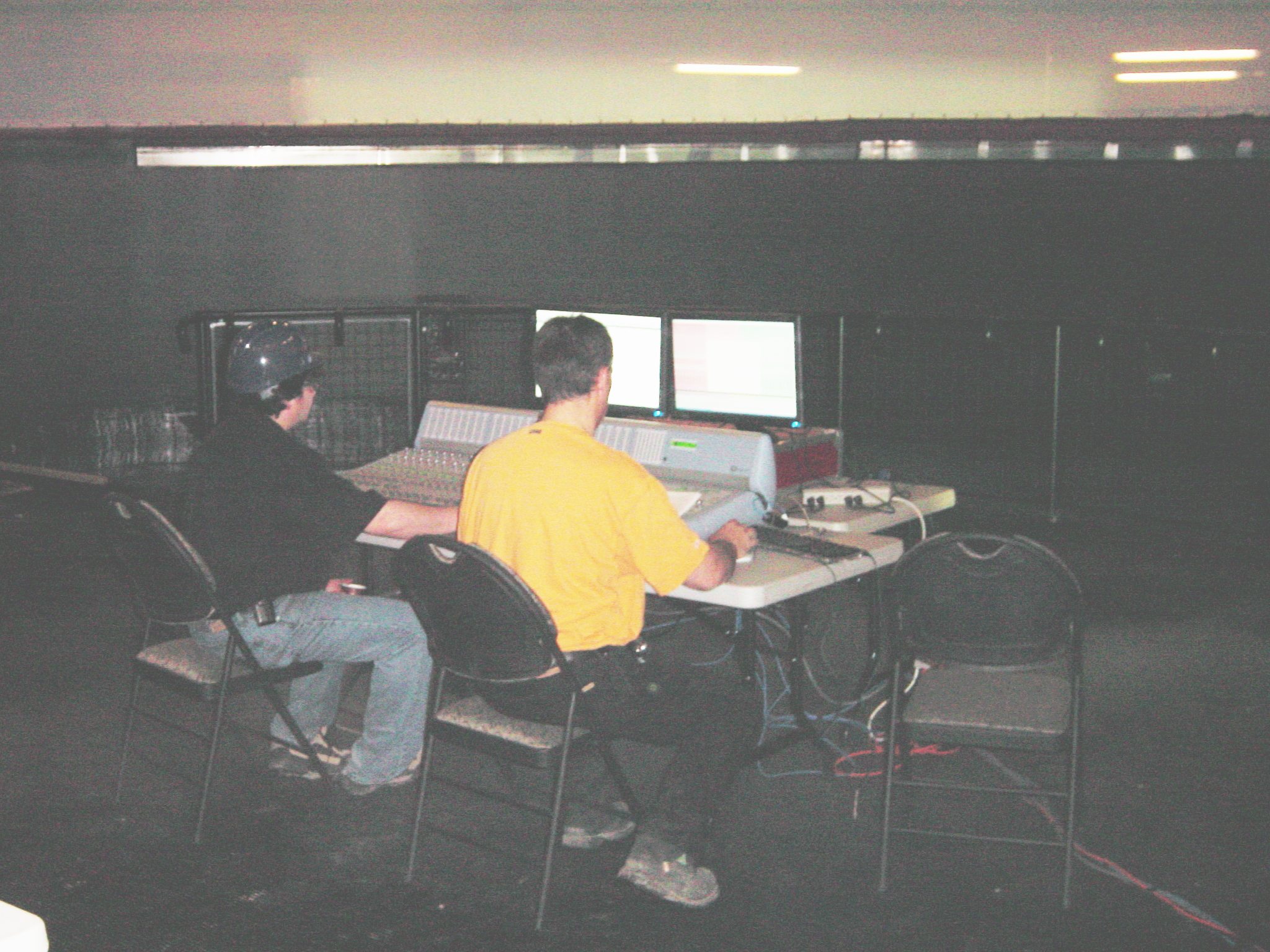 Part 2 - More images and details of the installation are here:
Special Thanks
We would like to thank Technifex, Tattersall Sound ,Blur Studio, Rock Hall, John Erickson, Yas Takata, Ed Segeren, David Rose and the Niagara Parks Commision